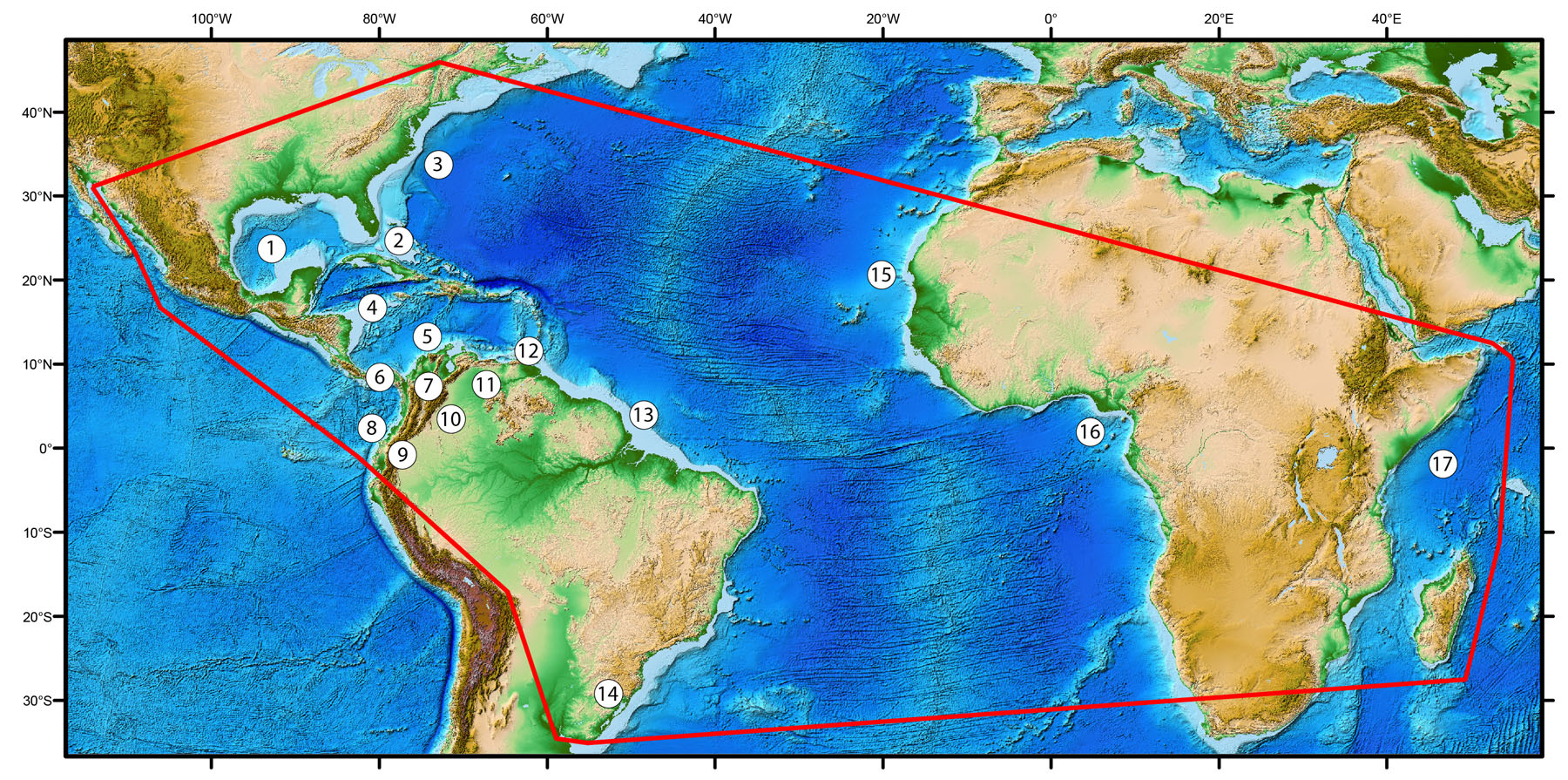 CBTH K-12 Outreach is an academic resource devoted to providing students and teachers of all ages with thorough, well-researched information on geology and geosciences in the Caribbean and Northern South America. Based upon a large compilation of data and materials by the Caribbean Basins, Tectonics, and Hydrocarbons (CBTH) Project, Caribbean Geology offers downloads of field trip guides, scholarly articles, reports, maps, and more, as well as information on upcoming meetings, conferences, and events related to Caribbean geosciences.



If you have any questions about this site, feel free to contact us at cbthproject@gmail.com.
Numbers on map refer to areas of proposed work described in the text of the Phase IV proposal (revised in 2015): 1 = USA and Mexican Gulf of Mexico; 2 = Florida and Bahamas region; 3 = East Coast of the USA (conjugate rifted margin of NW Africa); 4 = Nicaraguan Rise in Jamaica, Honduras, Nicaragua, and ; 5 = Deepwater areas of Colombian and Venezuelan basins; 6= Panama accretionary prism; 7 = Onland basins of Colombia; 8 = Pacific margin basins of Colombia, Ecuador and Peru; 9 = Foreland basins of Peru and Ecuador; 10 = Llanos foreland basin of Colombia; 11 = Venezuelan foreland basins; 12 = Trinidad, Barbados, and Barbados accretionary prism; 13 = Northeastern South America in Guyana, Suriname, and Brazil (conjugate rifted margin of Equatorial Africa); 14 = Southern Brazil and Uruguay (conjugate rifted margin of southwest Africa); 15 = Northwest margin of Africa; 16 = Equatorial margin of Africa; 17 = East African margin.